To better control entry and exit of vehicles in a parking area, the client wanted to build a smart parking management system based on vision analytics that would monitor the parking bays and alert authority in case of irregularities. Based on KritiKal's expertise in traffic video surveillance domain, the client outreached the company to develop this advanced parking system that would update the parking authority about the vacant and filled bays in the parking area.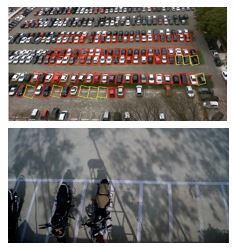 Featuring state-of-the-art technology, strong R&D ecosystem, and adept software developers & algorithm enthusiasts, KritiKal Solutions teamed up with the client to design and develop smart parking management system for two wheelers and four wheelers. During the initial phase, our team worked on the camera integration for parking area surveillance. Then we built a deep learning-based model for detecting vehicles and their types present in the given camera view. Our high-performing GPU based software application is capable of detecting cars, two-wheelers, trucks, autos, etc. Moreover, it supports the surveillance of up to 6 cameras.
Leveraging our expertise in Computer Vision, we built a robust algorithm using Open CV library to monitor the parking bay status 
This intelligent system detects the location of the vehicle based on the camera view and further does the classification. The categorization database can be sent to server using web services.  Then it is being used for marking the bays on the frame retrieved from the camera.  For example- Red signifies Occupied parking, White signifies Empty parking, Green signifies Wrong parking and Orange signifies Invalid parking. Invalid parking connotes restricted vehicle entering into the parking slot. While, wrong parking connotes assigned vehicle is not parked in the defined slot or vehicle is not assigned for a particular slot. 
To make the system outstanding, we integrated alert message functioning that triggers when invalid/wrong parking has been done. 
Through our Smart Parking Management System, the client has been able to mitigate the parking challenges faced by various private & public facilities.  As it describes the total number of empty parking bays and filled parking bays corresponding to the cameras, the parking staff would get a better control on the availability of the parking lot. Also, with our safe and convenient parking monitoring system, we have significantly whittled down the operating burden from the parking authority.