Facing tortuous competition from every nook & cranny, businesses wanted to reinforce their brand loyalty by giving away some rewards to their channel partners and end distributors. Having the privilege to work with big conglomerates, the client with its web presence in creating numerous partner loyalty reward programs, required to build some standalone loyalty mobile applications to ensure that their channel partners stay highly motivated & empowered to deliver results as expected by them. To fulfill the objective of entrenching brand loyalty of its clientele in the market space, the client approached KritiKal Solutions to build multiple loyalty apps dedicated to each company with whom client is associated.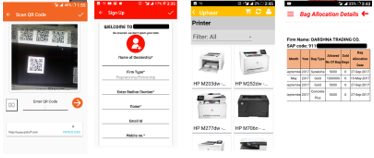 By understanding their requirement of developing one-of-its-kind mobile apps, which allows channel partners–distributors as well as resellers–to redeem their rewards on the go, KritiKal team mobilized a team of adroit mobile app developers. Firstly, our team came up with the wireframe designs which exactly demonstrated what the client needed in the mobile apps for its esteemed conglomerates. We followed agile methodologies in developing partner rewarding apps, comprising a right mix of UI/UX that best suited their clientele needs. 
Giving an edge to its client's marketing program to foster loyalty rewards amongst distributors, KritiKal Solutions leveraged its expertise in Native and Hybrid apps development and completed the milestones in the defined timeline for each app. We built the native apps for Android as well as iOS platforms by executing the codes on Android Studio and Xcode respectively.  Also, we built Hybrid apps using React Native, Ionic and PhoneGap framework and Chrome Extension as debugging tool.
All the apps feature highly intuitive interface comprising of Existing Member Login and New Member Sign Up options along with a secure way to redeem their points. 
KritiKal's developed loyalty app helped the client in reinforcing its partner rewarding program, which in turn, fulfilled its consumer-centric businesses' objectives of achieving high sales. Right from increasing their loyalty share to carving out a niche in the competitive market space, our app blurred the boundaries between conglomerates and partner channel networks by unleashing the power of mobility.  With this app, the client took the rewarding engagement to the next level where channel partners, distributors have become increasingly empowered and loyal to their brands.