Revolutionizing the perimeter security space with advanced analytics and optimization using IoT devices & sensors, the client wanted to build a robust Smart Gate Barrier unit that can gather useful information of any events (physical/virtual) from the IoT equipment deployed at the barriers and broadcast real-time barrier data/information to the central server through a desktop computer and generate alerts.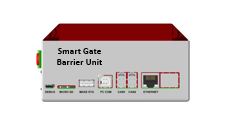 KritiKal team developed a main controller card that can be easily retrofitted with the client's existing barrier systems i.e. GRAB-300, GRAB-400, SW1900H. This one-of-a-kind device can interact with the different sensor cards and a set of PLCs over CAN Bus protocol in order to retrieve data and transfer this data periodically at a predetermined frequency on demand to the central server. 
Technical Specifications:
• Main Controller Card: Toradex IMx 6 Linux System on Module 
• Sensor Card: Latest STM32 ARM® Cortex®-M0 Microcontroller 
• USB interface for transferring the data to the local device pen drives (data logging)
• USB for interfacing with Personal computer or Laptop
• Ethernet Port for interfacing with PLC & desktop computer through Ethernet switch
• Sensor card circuit to monitor the barrier arm alignment between 0 to 90 degrees
• Sensor card circuit to monitor the exhaust fan functioning using current transformer
• Sensor card circuit to monitor the battery voltage for the solar-powered barrier systems
• Power card input power supply of 24VDC 
• Battery backup of min. 4 Hours 
KritiKal's designed Smart Gate Unit can be fitted with client's wide range of active barriers and thus foster advanced level of monitoring into their perimeter security solutions at less operational expenses. As the controller unit helps in measuring health/readiness of the system, monitoring & identification of faults, system state (engaged/halt), warning alert system malfunctions, and check bypassing/manipulation of the barrier systems, facilities can keep their security products operational at peak performance without any hassle of barrier halt/failure.