The future of IoT is limitless, let's face it – The Internet is taking control of everything be it getting a cup of coffee without even leaving your bed or keeping an eye at your home while you are away.
Looking back at the journey till now, there's been a humungous growth of IoT devices that have been changing the way we live our lives.
First, they appeared as portable devices, then we saw a flood of smart wearables which have now established a dominant presence in the IoT market.
Envisioning a Connected Future
As we have been observing for years, IoT is bringing more and more devices, gadgets & cutting-edge solutions into the digital milieu every day. In the future, technology will continue to advance, growing markedly in many directions.
There are predictions that the next 2 years will see over 50 Billion Connected Devices flowing into the market, thanks to the way the few existing smart devices have become revolutionary tools to help people & businesses save time & cost while managing daily errands.
The ultimate vision for the IoT World is to build a Smart & Secure IoT Ecosystem, here are some new advances in IoT that are helping to make this vision – a reality.
Is all this sounding too complex? Here's KritiKal's Internet of Things 101
Combining IoT & Blockchain for Increased Security
The centralized architecture of IoT is one of the primary reasons for IoT networks malfunctioning. With a large number of connected devices and more to be added, IoT is more prone to cyber-attacks.  And that's why security comes at the topmost priority for any IoT solution providers. Blockchain can trim down all the security flaws when added. First, in blockchain technology, everyone can participate in the network of nodes, see the blocks, transactions stored and approves them, though users are provided with the private keys to control transactions. The second most important thing about blockchain is that it is decentralized. Hence, there is no single authority that can approve the transactions which further eliminates the Single Point of Failure (SPOF) problem. Third, it's secure, which means the database can only be extended, nothing can be modified in the previous records.
In coming times, manufacturing, logistics & transportation companies will gain immense benefits of implementing blockchain technology across all the IoT-enabled devices by avoiding the threats that plague the central server model.
Fog Computing & IoT
The term originally coined by Cisco is a decentralized architectural pattern that brings computing resources & application services closer to the edge (sensors in case of IoT). A convergence of Fog computing & IoT will offer multiple advantages to the leading IoT solution providers including minimizing latency, conserving network bandwidth, operating reliability, capturing & securing a wide range of data, and locating data to the best place for processing with better analysis and insights of local data.
AI & IoT
AI can be applied to the IoT for data analysis that includes subdivisions like data preparation, data discovery, visualization of streaming data, time series accuracy, predictive and advances analytics, and real-time geospatial and location data (logistical data).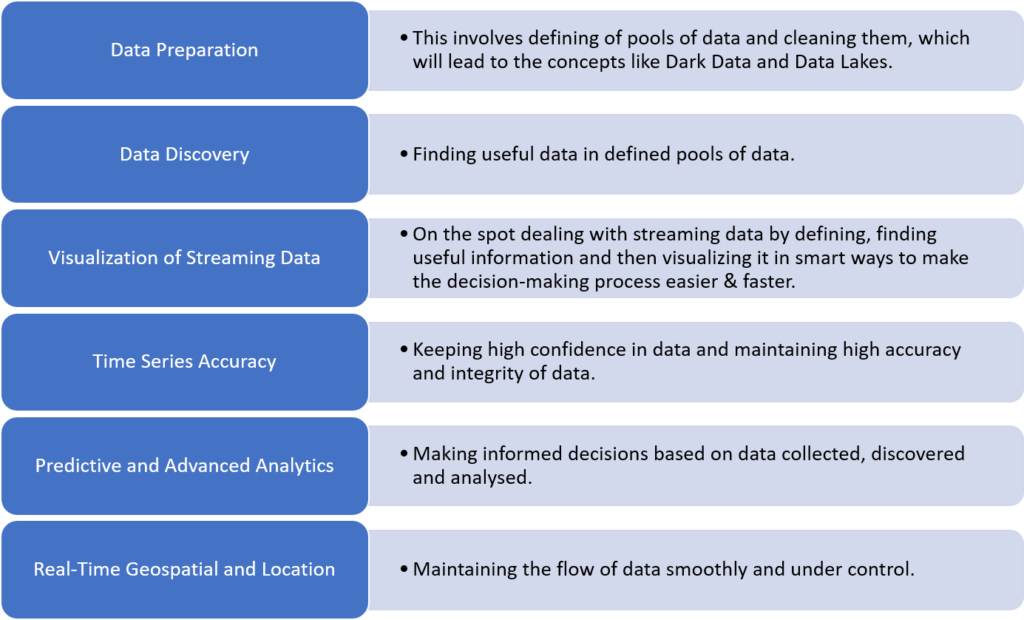 The Standardization Battle Continues…
Standardization is one of the major hurdles for the growth of IoT. In fact, it's a battle among industry leaders who are establishing themselves as the IoT Pioneers right at the early stages. Digital assistants like Homepod, Alexa, Google Assistant are the future hubs for the next phase of smart devices and this is hailing companies to launch their own such "hubs" for consumers allowing easy addition and connection of as many devices as possible.
To understand the difficulty of standardization, we need to emphasize on the following three categories: platform, connectivity, and applications. In platforms, you need to deal with UI/UX and analytic tools, while connectivity deals with customer's contact points with devices, and applications can control, collect and analyze data.
So, we need them all to reach up to the mark of standardization of any IoT developments.
IoT investments are soaring
IoT's inevitable impact will continue to bring more and more potential entrepreneurs and venture capitalists towards highly innovative projects.
IoT spending will reach the mark of 1.4 trillion dollars by 2021, according to a report published by IDC.
The exhilarating growth and increasing dependency of customers to do multiple tasks using the devices will add to the excitement of investing in IoT start-ups.
Summing up:
You're probably thinking – what's in store for Internet of Things in the future. Maybe it is ingestible and implantable things that will mark the next stage of transformation, after portable and wearable technology or maybe something even more extraordinary? Well, there is a lot more in store, such as – devices implanted in the brain to control and lessen chronic pain, depression or even schizophrenia; ingestible sensors to understand lifestyle behaviors, smart mirrors that will analyze one's face and call the doctor if found sick, smart ATM machines with security cameras, smart forks that will assist you in eating, and smart beds that will turn off the lights when everyone is sleeping.
Hence, there is neither a slowing down in IoT investments nor a diminution of customers who are obsessed with the next big innovation in the IoT world to make their lives better. The trend will continue and bring real security and confidence in the new-fangled developments to enable IoT to emerge as a BIG technology frontier again.