To design, develop and deliver an embedded/standalone solution (hardware and software) along with display which will generate wide area image from selectable multiple cameras up to maximum five cameras with very little overlapping FOVs and will track the object of interest in the resulted wide area image and will provide the feedback control to pan/tilt to automatically track the object. 
Challenges:
The wide area image should be generated by stitching high resolution images taken from multiple stationary cameras mounted on Pan and Tilt Unit (PTU) with very little overlapping FOVs

The software should detect and track the targets in the wide area image
The Pan and Tilt Uni (PTU) should have the capabilities to be steered manually or using system control to point towards the target.
The module should have the provision to take input either from live video or from stored video files.
The System should have capabilities to take input from pre-stored video of one or six cameras; and also show preview of the same to the operator.
The application should have a provision to save the videos from all cameras on disk.
The system should support on-demand real time video stabilization mode during previewing of the offline video/live feed.
The system should provide lab calibration software to find out the overlap between the cameras for calibrated FOV positions.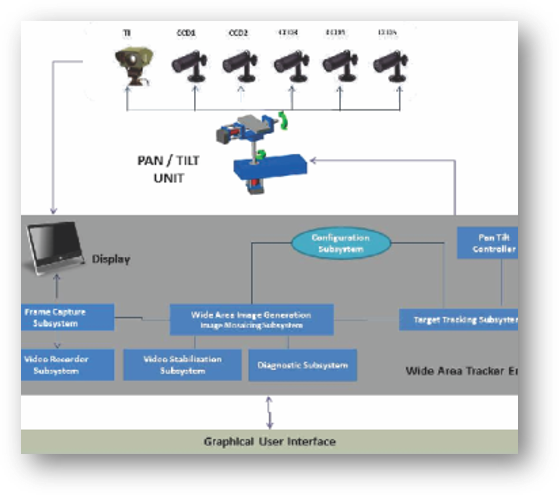 The wide area surveillance project aims to solve the vast area surveillance problem using a series of cameras with low common FOV's mounted atop a PTZ unit with capabilities of detcting and tracking moving targets using state of the art tracking algorithms. The wide area surveillance application would also have control over some of the functions of the cameras and PTZ unit for dedicated tracking of a specific target using a serial interface.
The WAT module to be designed would interact with the user with the help of a user friendly front end GUI and with the cameras and PTZ unit using serial interfaces created for controlling specific functionalities of the devices. 
GUI to view the wide area image with tracked objects and manual controls for PTZ Unit, target selection and camera controls.
In offline mode: application can load video files in .avi, .mpeg formats while in online mode it can take inputs from up to 5 cameras