For ATM Surveillance system, the client wanted a unique application that would detect the Face and Mask of the person entering the ATM area. If any mask is detected, the system will raise an alert to the authorities for further action. Based on our proven track record of delivering successful projects and expertise in vision systems, the client turned on to kritiKal solutions for this face and mask detection system project.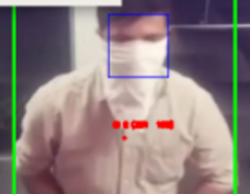 KritiKal Solutions used its decade long experience in Vision system design and development to analyze different aspects of the project. Based on the complexity of the project, the entire project is divided into 3 modules and combined them to achieve the desired result.
Module 1: Person Detection and Tracking Module
To detect a moving person, an open-source algorithm is trained to identify a person. The process took thousands of iterations to build a model that will detect a moving or a static person. Once the person is identified, a tracking ID is assigned to that subject. This helped the system to distinguish between multiple subjects entering the ATM area simultaneously.

Module 2: Face Detection Module
The Face detection module is designed to detect the face area of a moving person. Based on the tracking id of the person, the complex Face detection algorithm analyzes the person and retrieves face area details for further processing.
Module 3: Mask Classifier Algorithm
The Mask classifier algorithm is designed and trained to identify if the face area is covered with a mask or not. If a mask is detected, the system raises an alert to control room via the preferred mode of communication.
Combining the Individual functionality of these three modules helped in getting the desired result of Face and Mask detection system as requested by the client.
The Face and Mask detection system developed by KritiKal Solutions has helped the client to efficiently track a person wearing a mask to hide his identity. This helped in the early detection of any suspicious person. which in turn, drastically reduced the criminal activities, as the system detects and alerts the control room for immediate response.